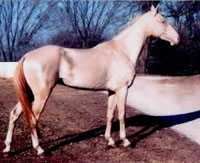 Contact Information
Sharon Saare Saddles
PO BOX 151
118 Lois Street
St. Onge, SD 57779
(605) 642-3337
sharonsaare@juno.com
Saddle Fit
Although our custom saddles may look expensive, we offer top of the line quality for a surprisingly reasonable price.

My saddle fitters are the very best in the business, and some have been at it for 20 years or better. We employ a very precise quality control procedure to prove our trees for accurate fit and symmetry.


. Once in a while folks think they have a warped tree... In over 30 years of business we have replaced exactly THREE that were defective. The reason is, I check EVERY one MYSELF. If it doesn't pass the eagle eye of experience, it never gets into the saddle factory. What folks frequently mistake as a warped tree in reality is that their horse isn't symmetrical... Most aren't. And if they want their saddle checked for square, we are happy to do that.. because we know they are!

Hey buddy, would YOU buy a Rolex in Hong Kong?!

We are very proud to say that our saddles are 100% made in the U.S.A., with home-grown leather and sheepskin, not the inferior, imported materials that so many of today's saddles are made of.